Douglas Gresham on Twitter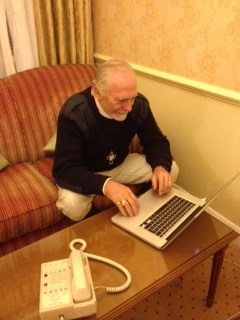 Today, Douglas Gresham answered questions via the @CSLewis Twitter account. Check out some highlights below:
Q: Did CSLewis believed that other worlds (such as Narnia) may really exist?
DG: Why? Don't you?

Q: What was the most emotionally difficult part of working on the Chronicles of Narnia films?
DG: The hardest part of working on the Narnia films was having to accept stuff that I knew to be less good than what Jack wrote.

Q: I'm curious about Lewis's position on anarchy. Would he have considered Jesus to be an anarchist?
DG: No Jesus was purely a Theocrat not an anarchist. Anarchy is for fools and bullies.

Q: Is C.S. Lewis still relevant in the 21st Century? What would he have made of the current financial crisis?
DG:  Like me he would have shaken his head and said "Well here we go again-drat it."

Q: Did he ever start works of fiction and then scrap them?
DG: Yes, every writer does. Lots of his attempts ended up in the wastepaper basket.

Q:  do you have a personal favorite that he wrote?
DG: Yes, I think the best fictional book he ever wrote was 'Til We Have Faces.
 Notable Quotes
"Evangelical is far too broad a term and covers a multitude of sins. Jack was a mere Christian, as am I."

(About the death of Lewis' wife, Joy) "We grew very close in that time. I leant on him and he had only me to lean on."
You can see a "replay" of the chat at http://tweetchat.com/room/cslewis.