Review of The Screwtape Letters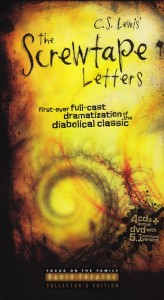 Review by Tirian
You may have noticed that this month NarniaWeb has been featuring ads for Focus on the Family Radio Theatre. I'd like to thank Tyndale House Publishers for supporting NarniaWeb this month and wanted to take the opportunity to tell you a little about the C.S. Lewis works that they are offering.
Focus on the Family Radio Theatre's Chronicles of Narnia is a full dramatization of each of the seven books in the Narnia series. Each book is told over three hours and has introductions by Douglas Gresham who shares some interesting insights into the story. I've listened to all seven of these and they are really good.
Last year I had the opportunity to pick up the dramatized version of The Screwtape Letters. Before reading anything else, watch this clip on YouTube.
Andy Serkis as Wormwood is one of the most inspired casting choices I've ever heard. He brings a sense of refined malice to the part which fits perfectly! The dramatization takes what is a primarily theological book and highlights the personal parts of the story. It's an excellent adaptation which makes the characters believable and thoroughly likeable (not Screwtape, of course) and really drives the story forward. Each chapter takes about 10 minutes which makes for easy listening and allows you to break the story up. If you are listening on an MP3 player you can quickly skip around to different topics. I highly, highly recommend checking out The Screwtape Letters.
Note: The Screwtape Letters might be too intense for the younger ears in your family. There's scary music, explosions and lots of devilish cackling. Even now, watching the clip above brings chills to my spine.
If you are still looking for a Christmas gift this year, I'd recommend either of these gifts for the C.S. Lewis-lovers in your life. Find out more at Tyndale House Publishers.