Gresham Still Considering Options for Next Narnia Film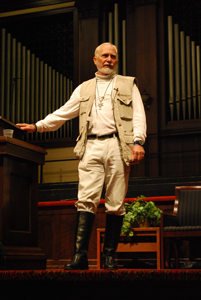 Co-producer (and CS Lewis' stepson) Douglas Gresham spoke at Asbury University in Wilmore, Kentucky on Monday. Afterwards, he spoke to William O'Flaherty from EssentialCSLewis.com who couldn't resist asking for any kind of update about the future of the Narnia films. Here is his response (16:41):
DG: We just don't have any information. We're doing what the people in Hollywood like to say "considering our options." But let me tell you: As soon as anything concrete does happen, as soon as we have anything concrete to report, we will make an announcement and the world will know exactly what's going on. But until we have something, there's no point in trying to say something.

Q: In a perfect world, if you could line everything up to fall into place, how soon do you hope to have an announcement?

DG: When you're dealing with this kind of material, it's impossible to even guess. I wouldn't have a clue. But I can tell you this: It always takes longer and costs more.
You can listen to the full interview here. Gresham indicates that The Horse and His Boy is his favorite chronicle though he hastens to add that it is very difficult to choose (4:30), and also talks about Susan's fate in 'The Last Battle' (15:22).
Read more about the event at Asbury here.