Remembering C. S. Lewis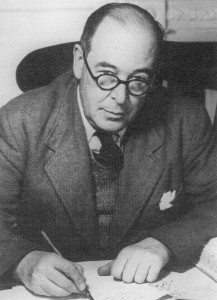 November 22nd marks the 50th anniversary of a very famous man's death. If you're like me, you haven't been able to flip on the TV, open a newspaper, or visit a news website this past week without missing the coverage of the anniversary of John F. Kennedy's assassination; but that's not the famous man I'm referring to. No, I'm talking about C. S. Lewis, who just happened to quietly pass away on the same day as J. F. Kennedy. Unlike Kennedy, Lewis's death was not highly publicized, and for the most part it went unnoticed by the world at the time. But Lewis's life has had an incredible impact on my own life and so today I'm remembering him.
I'm no historian, or professor, and quite frankly have no authority speaking on the life of C. S. Lewis. But what I am is a mad fan of The Chronicles of Narnia, seven of the greatest children's books of all time in my not-so-humble opinion, and I can tell you my story. I don't remember my first introduction to the books because I was too little, but I do know that my mom read them to me, several times in fact. They were favorite bed-time stories and a great way to pass the time on a long road trip. I, like so many others, remember peeking into closets, just in case there was a way into Narnia. I so wanted to have tea with Tumnus, or bury my face in Aslan's mane.
Moving onto high school, I still remember hearing the news that some random guy named Peter Jackson was taking on The Lord of the Rings, another favorite fantasy series of mine, and I knew that Narnia would not be far behind making it to the big screen. I remember thinking that if I had missed out on being a part of the Rings movies, I certainly was going to do everything in my power to be involved with the Narnia movies in some way, whatever that was.
Sure enough, only a few years later when I was in college, I read the online news that Walden Media had purchased the rights to the Narnia films and The Lion, the Witch and the Wardrobe would be made into a movie. I think I audibly squealed. Not long after that, I stumbled across a fansite; this fansite in fact. My fate in the world of Narnia movies was sealed, though I didn't know it at the time. It was here that I discovered "my tribe" so to speak. I had certainly known other fans of the books before, but not quite with the same devotion as me, or that had a shared interest in following movie news. Here, there were lots of fans of the Narnia series, and like me, that would go crazy over the tiniest bit of news that trickled in. And not only that, but many of them shared my same interests, the same core Christian beliefs, and the same personality traits that I did. No where, in my real life, had I met so many people like myself that I could connect with. I was hooked, and to this day, I can safely say that the majority of my closest, dearest friends, I've met here on this site.
The past ten years have been a roller coaster ride of emotions as we all saw three of the beloved Narnia stories come and go on the big screen. And many of us look forward to following the news with great enthusiasm as The Silver Chair goes into production as well. I think I can speak for a good many of us here on NarniaWeb when I say that we don't believe any movie will ever be as good as the books, but we absolutely love the journey we all take together following the news as it's made. We're giddy together over casting news and pictures, angry over a change to the storyline, and then there's the big 'well, what now?' when a movie debuts in theaters and we have to wait for the next one to start the ride all over again.
But even after the movies are over and there's little left on this site other than chatting with people about how much fun we had while our time here lasted, my own story with Narnia will be far from over. I have a son now, he's just over one year old, and I cannot wait to introduce Lewis's The Chronicles of Narnia to him.
And so there you have it. My own life, as impacted by C. S. Lewis in a nutshell. But I know that I'm not the only one out there. So as a tribute to C. S. Lewis, we would love it if you'd share your story with us as well. You can do it here on our forum, in our comments section below, or on our Facebook page as well.