Joe Johnston to Direct THE SILVER CHAIR!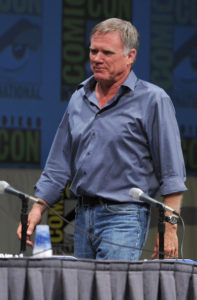 Joe Johnston will direct The Chronicles of Narnia: The Silver Chair! Here is the announcement from the official Narnia Facebook page:
We are so pleased to welcome Joe Johnston, director of 'Captain America' to the Narnia family! Joe will be directing the next Chronicles of Narnia movie–The Silver Chair.

Says Douglas Gresham: "It is very good news that Joe Johnston has agreed to come on board for The Silver Chair! We need a man with real feeling for beauty, enchantment, excitement and indeed humour and fun, all things that this Movie will be full of. I am really looking for to working with Joe on the project. In the best movies, the Director is always a vibrant, hidden character in the film — and I reckon we've got one!"

Producer of The Silver Chair movie, Mark Gordon, says "Joe is a wonderful storyteller who is equally at home in the biggest franchises and the most intimate character pieces. Because C. S. Lewis's story is iconic and epic but also tender, personal and emotional, he's the perfect choice to bring The Silver Chair to the screen."

One step closer to the next movie! Stay tuned for more movie news.
Joe's directing credits include: Captain America: The First Avenger (2011), Hidalgo (2004), Jurassic Park III (2001), October Sky (1999), Jumanji (1995), The Rocketeer (1991), and Honey I Shrunk the Kids (1989). Like Andrew Adamson he also has a visual effects background, having worked on the original Star Wars trilogy and Raiders of the Lost Ark. 
There is a certain irony here: Narnia screenwriters Christopher Markus and Stephen McFeely eventually went on to write the Captain America trilogy… and now the series has returned the favor.
No word on the  release date for The Silver Chair.
Stay tuned for our analysis of this news in an upcoming episode of our biweekly podcast, "Talking Beasts."
Congratulations, Joe! Welcome to Narnia!