Watch Douglas Gresham Live at Wheaton College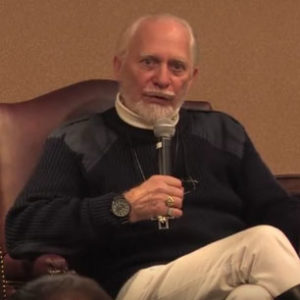 Douglas Gresham (stepson of C.S. Lewis) will be speaking at Wheaton College in Wheaton, IL tonight. The event will be streamed live beginning at 6:55pm CST.
"Evangelism and C.S. Lewis: A conversation with Lewis' stepson Douglas Gresham, with music by Meg Sutherland."

Professor of evangelism Dr. Jerry Root will interview C.S. Lewis' son, Douglas Gresham, about Lewis' legacy as an evangelist. Singer-songwriter Meg Sutherland will perform songs from her debut album, "Courage, Dear Heart," which features songs inspired by the creative legacy of Lewis.

Evangelism and C.S. Lewis is sponsored by the Billy Graham Center for Evangelism and the Marion E. Wade Center at Wheaton College.
We will see if he offers any new information about The Silver Chair. View the stream here.
UPDATE 4/18/17: View the recording of the event. You can also read our notes. The event begins with a few songs from Meg Sutherland. Gresham unsuccessfully tried to get her song "Real" into the closing credits of The Chronicles of Narnia: The Voyage of the Dawn Treader.