Director Joe Johnston Aims to "Capture the Essence" of The Silver Chair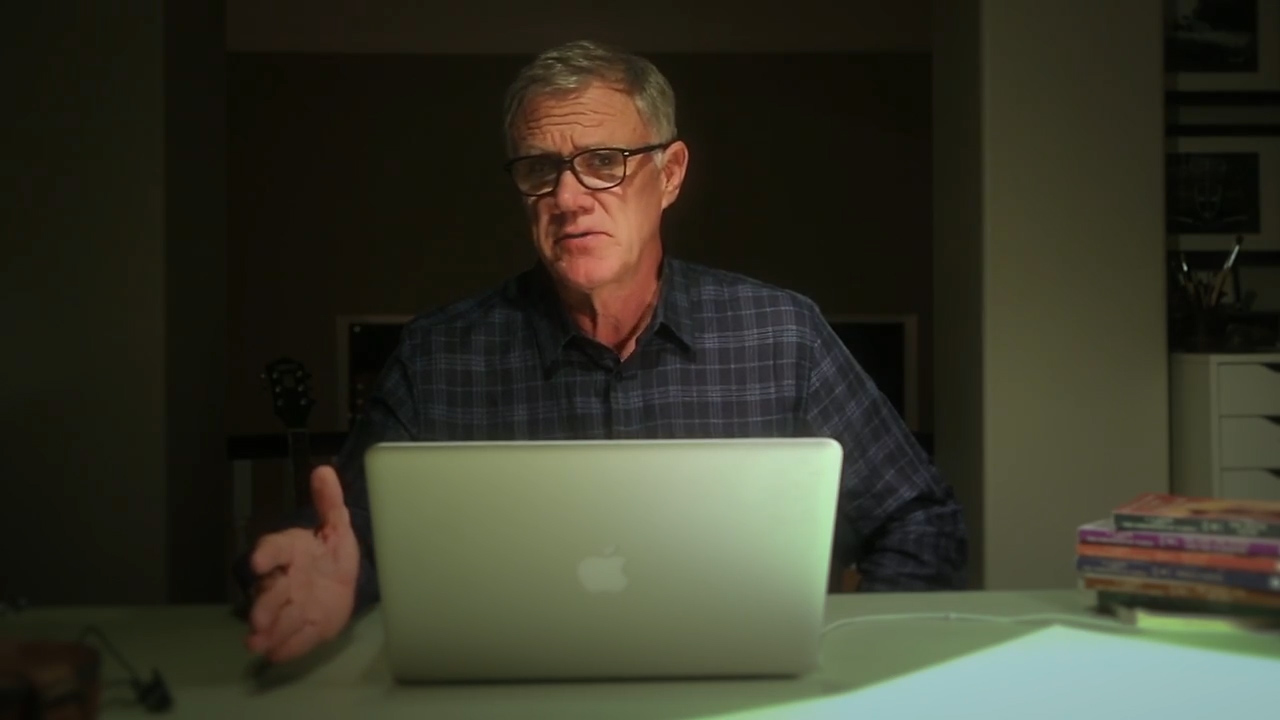 For the past few weeks, Joe Johnston (Director, The Chronicles of Narnia: The Silver Chair) has been accepting questions from NarniaWebbers and social media followers.  Scroll down to see his responses.
Highlights:
Reboot: "Everything is new. This is the beginning of a brand-new trilogy."
Adaptation: "I want this film to remain true to the essence of C.S. Lewis's work."
Cast: "[Will Poulter] is too old to play Eustace now. […] Beyond that, I want to set this apart from the other trilogy."
Locations: Probably New Zealand
Experience with Lewis: At age 12, Joe read Out of the Silent Planet and Til We Have Faces.
UPDATE: The video is no longer available, but you can still read our transcript below. (Thanks to NarniaWeb Moderators The Rose-Tree Dryad, AJAiken, and Meltintalle)
Joe: Hello, fellow fans of Narnia. Great questions. Hundreds of questions from all over the world. Thank you very much. Some really great ones. A lot that I can't answer right now, but I will be able to when we do another these when we're deeper into prep and production. So, let's get right to it.

Q: Is this a reboot?

Joe: Everything is new. This is the beginning of a brand new trilogy. We will make reference to characters and events in the other films as the book does, but think of this as the beginning of an all-new trilogy.

Q: Will you be keeping the design aesthetic of the previous three films?

Joe: As far as the design aesthetic, not really. This is going to look different, it's going to reflect my vision of what I think The Silver Chair is, the book. I have a production designer who's starting very shortly who I'm very excited about who's going to design an amazing film and I will of course be overseeing everything he does. I can't tell you his name because we haven't made his deal yet, but I'm confident it's going to happen.

Q: Is there anything you find initially daunting about taking The Silver Chair on?

Joe: The only thing that I find a little bit daunting is that I want this film to remain true to the essence of C. S. Lewis's work, the source material, and that in a way is… it is a little bit of a daunting task that I set for myself. Otherwise, no. I like these big films in a way; a film like this is easier than a little low budget film because I can have the absolute people to help me. I can hire the best in the world, so… moving on.

Q: Will The Silver Chair have Aslan in it?

Joe: Of course it will. Apparently there was a rumor that he wasn't going to be in it. Aslan is the central character in the whole series, so yes, Aslan will play as prominent a part in this film as he does in The Silver Chair the book.

Q: How close are you going to stick to the book? Is there pressure to build a bigger climax, add more action scenes, make the story less episodic, etc?

Joe: I'm going to stick as close to the book as I can and make the most commercial version of The Silver Chair that I can. Is there pressure to build a bigger climax? There's a pretty big climax in the book, as I recall, and there is a big battle scene. There are lots of action scenes. We all know the difference between a book and a film. When you're reading a book, you decide what everything looks like and how characters sound and what the environment is, and it's all up here for you. I'm going to be supplying a lot of that for you, but I also want to keep you engaged and mentally involved in the film.

Q: I've heard rumors that the Lady of the Green Kirtle would be replaced with the White Witch for the film. Could you clarify?

Joe: That is incorrect. Another rumor. Who knows where these rumors come from? No, the Lady of the Green Kirtle is the villain in The Silver Chair.

Q: Do you plan to keep the Christian themes in The Silver Chair?

Joe: This is a really important question. C. S. Lewis wrote the books, all the books, to be read by a very wide readership and he wanted them to be enjoyed by people who recognized and embraced the Christian themes and equally enjoyed by the people who didn't recognize them or, you know, were unaware they were even in there. And I think the film should be the same way. I think that if you know that the themes are there and recognize them, then you will enjoy—you will recognize those Christian themes. Otherwise, you don't need to. You're going to enjoy the film just as much. That's my hope, anyway.

Q: The Silver Chair is the darkest story in The Chronicles of Narnia. Will this be super kid-friendly and over lit like the first trilogy or will your visuals encompass the true visions C.S. Lewis gave us in the text?

Joe: That is my goal: it's to, as I said, capture the essence and the spirit of what C. S. Lewis intended when he told the story. At the same time, I want this film to be very commercial. That doesn't mean that it's going to be over lit, but it also means that it's not going to be dark… well, when I say dark, I'm talking about visually dark. It's not going to be over lit and it's not going to be so dim that you can't see the characters on the screen. But I have a wonderful cinematographer who is going to make Narnia a really magical land that will be colorful without being over lit. And stick around to see what that looks like.

Q: Is there any difference between doing an adaptation and doing an original screenplay? Does this affect your approach at all?

Joe: In a way it does. When – and I'll use The Silver Chair as an example – I feel an obligation to stick as close to the spirit of what C. S. Lewis intended. With an original screenplay I might feel like I can play a little bit more fast and loose with the material than I would with an adaptation, especially one from classic literature like The Chronicles of Narnia.

Q: Will anyone from the previous cast returning?

Joe: I don't think so. For … really, the main reason is that that cast, those main characters, have aged more than would be natural to be playing these characters. And even though this is a different cast with Jill and Eustace, even though Eustace was in The Voyage of the Dawn Treader, Will Poulter, who is a very good actor but he's too old to play Eustace now. But beyond that, I want to set this apart from the other trilogy and so I'm going to start with an all-new cast and I don't think anyone will say "Hey, how come that person's not in the movie?" It wouldn't be appropriate.

Q: If you could choose from any actor in Hollywood to play the role of Puddleglum, who would you choose?

Joe: Well, we have discussed the role of Puddleglum a little bit but I'm not going to say who I would … I'll tell you who my perfect actor would be. John Cleese at about age 25 would be a perfect Puddleglum to me. I don't think he wants to do it now.

Q: Are you more inclined to shoot Narnia on location or is your vision of Narnia only achievable through digital effects?

Joe: I intend to shoot a lot of this on location and I will probably use digital effects to enhance the landscape and extend it. Either the landscape or the locations or the sets, the buildings, you know, castle exteriors, whatever, but I think that I want to open this film up; I don't want it to feel like it was shot on a stage so a lot of it will be shot on location, probably in New Zealand on the South Island.

Q: Do you plan on combining CG with practical effects, animatronics or even miniatures in The Silver Chair? In your opinion is that style of filmmaking feasible anymore from a financial perspective?

Joe: I think anything that helps you tell the story is feasible. I think that these are all tools to basically help you tell the story and sometimes CG is the best way to tell it, and sometimes it's animatronics, and sometimes it's even miniatures, who knows. But I am open to using anything that cost-effectively tells the best story of The Silver Chair.

Q: You've directed many films across many genres over your long career. Why choose The Silver Chair and why now for you personally?

Joe: I've always been a fan of C. S. Lewis. The first book of his I read – I think I must have been twelve years old – was Out of the Silent Planet and I've read, of course, Perelandra and That Hideous Strength and several others. I think at the same time I read Till We Have Faces. I must have been 12 or 13 and I have to admit I didn't fully understand it at that age. But I've read a lot of his stuff, I've always been a fan, and the opportunity to bring one of his books from The Chronicles of Narnia to the screen: I consider it a great honor and a great opportunity, so that's why now for me personally.

Q: Will you be designing any of the visuals since you designed so many iconic characters, spaceships, and miniatures or machines for Star Wars and The Iron Giant?

Joe: I'm going to oversee the design of all this stuff but I believe in leaving this kind of to the professional. I have a wonderful production designer who will have a team of illustrators and designers to help bring that vision to the screen. And I think that you're going to love it. I know I will. And you're going to see that it is set apart from the films in the other trilogy. Or in the original trilogy.

Q: Of all the movies you've directed so far, which one is your favorite and why? Is that like asking which child is your favorite?

Joe: No, it's not quite like that. But, I would have to say October Sky mostly because it let me sort of break out of this kids' fantasy genre that I had been in for a long time. And it also – ah, I was allowed pretty much to make the film I wanted to make. It was fairly low budget and we were sort of under the radar out in Tennessee, and I didn't have a lot of involvement from the studio. And I got to pretty much make the film I wanted to make, which I'm very happy with the way it turned out.

Q: How will you craft this movie in such a way that it stands out from run-of-the-mill big, pointless, battle-at-the-end believe-in-yourself fantasy films?

Joe: Well, believing in yourself is not a terrible thing. But I know what you mean. It seems like a lot of films like this, sort of feel like they're out of the same mold. All I can say is this one, because I intend to stay as close to the essence of C. S. Lewis's work as possible I think that you'll recognize that it goes a bit deeper, than the, as you call them, run- of-the-mill, big pointless battle at the end. Although, there is a battle at the end in the book. And there will be a battle at this but not quite the battle you think it's going to be.

Q: What do you as a filmmaker feel is absolutely necessary to bring to the Narnia franchise that was lacking in the last film or even all the previous films? What can you specifically bring to this film universe that will it make it unique and separate it from the mindlessness of other action blockbusters and popcorn fluff?

Joe: Well I sort of answered that with the last question but, I think that what's really necessary is, this is just me, the way I feel about it, is focus and using your instincts and not letting other factors tell the story. I like to really focus on what my initial instinct is. And I'm usually right; not 100% of the time, but, usually 98% of the time (*smiles*). Okay, and again, like I said before in a couple of other questions, the essence; staying true to the essence of what C. S. Lewis wrote. Doesn't mean that it's going to be word for word; every, you know, there won't be every scene, and won't be every line of dialogue, but it will be true to the material and I think that you as Narnia fans will recognize that. That's my hope anyway. And it'll have a lot of heart. That I can guarantee.

Q: What is the main point and theme of this specific story?

Joe: I think that there are a few things that run through this. And for me, it's about hope. It's about working together and recognizing what others can, how you can share responsibility with others, and how you can work together. It's about standing up to tyranny; whether you call it a bully, or however you like to phrase it. But it's about standing up and not running from tyranny. And it is about knowing who you are and finding out who you are and recognizing who you are. Who is that person that you call yourself? And that's, to me that's a really interesting aspect of the story, and it's something that in our culture there's almost a taboo against recognizing who you are, and knowing who you are and embracing that; and that's an element of the theme in The Silver Chair.

Q (from Andy): Please don't let this one suck.

Joe: Okay, Andy. I won't let it suck.

So, thanks for all the questions. There were some great ones! Thanks to Narnia.com and NarniaWeb and Entertainment One and The Mark Gordan Company and Tristar. And we will do this again when you send in another 800 questions, of which I'll pick a dozen or so. All right, thanks a lot guys.