Fake News: The Silver Chair Shooting in November?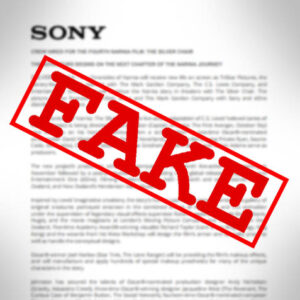 What looked like a leaked press release for The Chronicles of Narnia: The Silver Chair was posted yesterday afternoon with the headline "CREW HIRED FOR THE FOURTH NARNIA FILM: THE SILVER CHAIR." It claimed the movie would start filming in November and named some crew members. Unfortunately, some sites ran with the story and fans started getting their hopes up.
NarniaWeb has been investigating since the post first appeared. Sources close to the production tell us the document is a forgery. Sony is not the author. Fans should disregard it.
Some of the information in the forged document was already public knowledge while the rest is speculation. Director Joe Johnston previously said New Zealand was a likely location for filming. Shelly Johnson has not been announced as Director of Photography but has worked with Johnston four times, making him a likely candidate for The Silver Chair.
What we do know: In April, Producer Douglas Gresham told NarniaWeb he hoped to begin filming this autumn and then release the film in late 2018, but nothing was official. That report is a few months old now, so it is not clear if that plan is panning out. A production schedule and release date for The Chronicles of Narnia: The Silver Chair has not yet been announced, but rest assured that Director Joe Johnston is hard at work.
Thanks to Rogin for alerting us.
UPDATE: Joe Johnston Sketchbook has tweeted about the fake news.