RUMOR: Millie Bobby Brown From Stranger Things Offered Role of Jill Pole in The Silver Chair?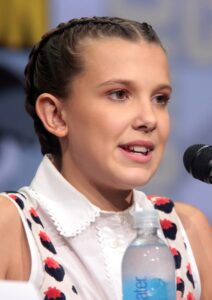 The first casting rumor for The Chronicles of Narnia: The Silver Chair is making the rounds. ThatHashtagShow claims to have the inside scoop that Millie Bobby Brown was offered the role of Jill Pole earlier this year.
Currently, this is an unconfirmed RUMOR.
And even if she was offered the role, it is possible she turned it down and the production has long since moved on. This story, even if true, might be irrelevant at this point. NarniaWeb is investigating.
The 13-year-old is best know for playing Eleven, a girl of few words, in the Netflix original series Stranger Things, which just released its second season. Here is an interview with Millie from last week.
This is certainly not the first unconfirmed report about Narnia casting. Perhaps most famously, in 2004 it was rumored that Nicole Kidman would play the White Witch in The Lion, the Witch and the Wardrobe. Of course, this turned out to be false.
---
Thanks to Joseph Simmonds and everyone else who sent in spy reports about this.
Post your thoughts below or in the discussion forum!