Douglas Gresham: Prince Caspian Play is Better Than the Movie
Douglas Gresham, step-son of C.S. Lewis, was a co-producer on Disney/Walden's The Chronicles of Narnia: Prince Caspian (2008). But, he prefers the new stage adaptation at The Logos Theatre in Taylors, SC.
This is the first time Prince Caspian has been seen on a professional stage. Read our review.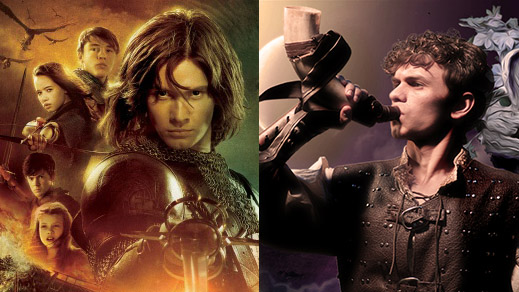 Gresham: "I rather enjoyed [the play] more than the film we made out of it. The film, of course, has all the high technology and computer-generated imagery and all that sort of stuff that we can do very well. But, I felt that our script was a little bit lost in the translation from the book. I would like to have stayed closer to the book. And [the play] did. But, I suppose I'm a Narnia purist in one sense. I don't like to change the book at all if we can avoid it. And there are certain scenes and areas where we have to. But sometimes in the movies, I think we get carried away and make changing it for change's sake. And [the play] didn't do that."
This is just short clip from the 16-minute discussion between Douglas Gresham and Director Nicole Stratton included on "The Making of Prince Caspian" DVD. Later in the video, Gresham describes a couple changes from the book that he approved of: Opening the play with a prologue explaining the origin of the Telmarines, and fleshing out the relationship between young Caspian and his nurse.
The final run of Prince Caspian at The Logos Theatre ends on April 28 (discounted tickets). Watch an exclusive clip of the Treasure Chamber scene.
The Logos Theatre will be adapting The Horse and His Boy for the stage next (view trailer). Support the production at their GoFundMe page. Unfortunately, the DVD release has been cancelled.