HarperCollins to Release C. S. Lewis Bible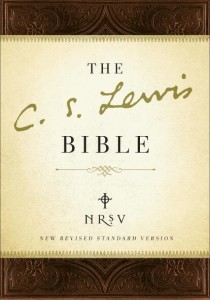 To go along with the other tie-in books being released in October for The Voyage of the Dawn Treader, HarperCollins will be publishing a C. S. Lewis Bible.
Thought-provoking meditations from beloved author C. S. Lewis's own spiritual writings are paired with corresponding Bible passages in The C. S. Lewis Bible. This NRSV Bible provides readings comprised of over 600 selections from Lewis's celebrated spiritual classics, a collection that includes Mere Christianity, The Screwtape Letters, The Great Divorce, The Problem of Pain, Miracles, A Grief Observed, The Four Loves, and The Weight of Glory, as well as letters, poetry, and Lewis's lesser-known works. Each reading, paired alongside relevant passages in the Bible, offers C. S. Lewis as a companion to a reader's daily meditation of scripture.
Sample pages from the C. S. Lewis Bible can be viewed here and more information on this Bible can be found on HarperCollins' website here. You can also pre-order the Bible here.
Thanks to johobbit for the heads-up!
UPDATE: In digging around for more information on the C. S. Lewis Bible, I ran across another book being released on Oct 12 called 'A Year with Aslan: Daily Reflections from The Chronicles of Narnia'.
In the tradition of A YEAR WITH C. S. LEWIS, get your daily dose of Narnia inspiration in this first of its kind collection of 365 readings from the beloved children's series. A Year with Aslan will select the most thought-provoking and poignant passages from all seven books in the series, and provide reflective questions that get the heart of what matters most.