VBS Meets VDT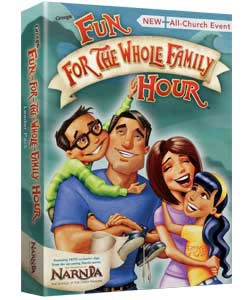 Group Publishing, Walden Media, and 20th Century Fox have teamed up and put together a Vacation Bible School package called 'Fun for the Whole Family' Hour.
Fun-for-the-Whole-Family Hour combines the excitement of VBS with the thrilling adventure of Narnia in an experience that gets all ages connecting with each other and with God.

It's one action-packed hour where the families in your church can talk, laugh, share, discuss Scripture, and worship together–and watch never-before-seen clips from the latest Narnia adventure. This film explores family-friendly themes like grace and transformation, giving families the chance to look at God's transforming love in a new way.

Featuring FREE exclusive clips from the upcoming Narnia movie The Voyage of the Dawn Treader!
The leader pack will be available to ship June 1, 2010. Do you know what this means NarniaWebbers? VDT clip are less than two months away! UPDATE: The VBS package will be available June 30th instead of June 1st as was previously reported.
More information and preordering is available on Group's website here.
Thanks to QueenSusanJ316 for the initial report, and Liberty Hoffman for the link!
UPDATE: One of the pages on the website includes a new image from the movie: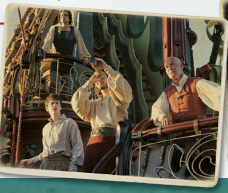 Nice catch, AslansCountry.com!