The First Dawn Treader Movie Poster
Posted May 14, 2010 12:53 pm by Tirian
NarniaWebber 'LucyP0104' has just sent us a snapshot of the first The Chronicles of Narnia: The Voyage of the Dawn Treader Movie Poster. The tagline reads: "Return to MAGIC, Return to HOPE, Return to NARNIA." Notice the reflection of the Dawn Treader in Aslan's eye.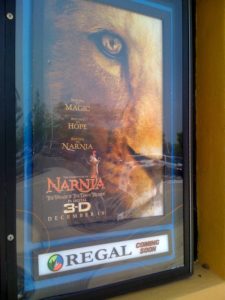 Thanks LucyP0104! This photo was snapped at a Regal theater in Pennsylvania, if anyone has a similar shot, please send it in!
UPDATE: We have received the full-size hi-res image from the production. Here, for your viewing pleasure is the Return to Hope: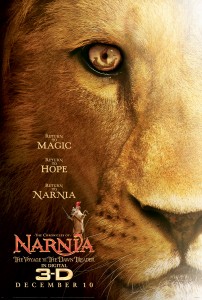 Visit the Forum
Have a comment or want to chime in on this news story?
Check out the NarniaWeb Forum for some fantastic discussion. Just
click here
to post your comments. We look forward to seeing you on the forum! Here's a quick preview of the forum discussion:
Unfortunately there appears to be no news items on the page you have requested logged here
---