The First Dawn Treader Movie Poster
NarniaWebber 'LucyP0104' has just sent us a snapshot of the first The Chronicles of Narnia: The Voyage of the Dawn Treader Movie Poster. The tagline reads: "Return to MAGIC, Return to HOPE, Return to NARNIA." Notice the reflection of the Dawn Treader in Aslan's eye.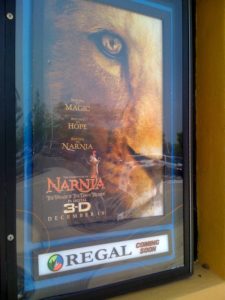 Thanks LucyP0104! This photo was snapped at a Regal theater in Pennsylvania, if anyone has a similar shot, please send it in!
UPDATE: We have received the full-size hi-res image from the production. Here, for your viewing pleasure is the Return to Hope: