Anna Popplewell: Susan's Appearance Will Be Brief
Yesterday, we posted a link to a short video interview with Anna Popplewell (Susan) at the UK premiere of Charlie St. Cloud, where she said: "I'm only in a teenny tiny fraction of [The Voyage of the Dawn Treader]. I just went out basically to do this one scene, and to visit. But it looks like it's going to be really good, and obviously I'm excited to see it." (Thanks to 'Daredevil' for the find)
Hours later, another short interview popped up on YouTube:
Transcript: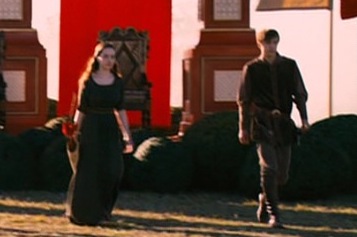 Q: …Looking forward to the new film. What can you tell us?

Anna: I can't tell you very much because I'm not really in it. My character is not in the book. But if you keep your eyes peeled very carefully, then you might catch a glimpse of me. But I think everyone who I know who is involved with it is really excited about it, and it's going to be out towards the end of the year.

Q: In the trailer, it looks big.

Anna: Yeah, well they don't like to muck about with them really, do they? Lots of it is set on a boat this time, so it's got quite a different look, but it's still more of the same epic scale.

Q: Were you a bit sad not to be as involved as you were with the other films?
Anna: Yeah, I mean of course, because I had such a good time doing them. But at the same time, it sort of meant that I was allowed to go to university, so it kind of worked out well.
NarniaWebbers have been speculating about Peter and Susan's role in the film ever since they first appeared on a theater stand in May, and again in trailers. In the book, Peter is busy studying for exams and Susan is in America. Here an an excerpt from The Voyage of the Dawn Treader, Chapter 1:
Edmund and Lucy did not at all want to come and stay with Uncle Harold and Aunt Alberta. But it really couldn't be helped. Father had got a job lecturing in America for sixteen weeks that summer, and Mother was to go with him because she hadn't had a real holiday for ten years. Peter was working very hard for an exam and he was to spend the holidays being coached by old Professor Kirke in whose house these four children had had wonderful adventures long ago in the war years. If he had still been in that house he would have had them all to stay. But he had somehow become poor since the old days and was living in a small cottage with only one bedroom to spare. It would have cost too much money to take the other three all to America, and Susan had gone.

Grown-ups thought her the pretty one of the family and she was no good at school work (though otherwise very old for her age) and Mother said she "would get far more out of a trip to America than the youngsters". Edmund and Lucy tried not to grudge Susan her luck, but it was dreadful having to spend the summer holidays at their Aunt's. "But it's far worse for me," said Edmund, "because you'll at least have a room of your own and I shall have to share a bedroom with that record stinker, Eustace."
So, why are Peter and Susan wearing their Narnian clothes in the trailer? Discuss!