Douglas Gresham on Adapting Narnia for Very Young Children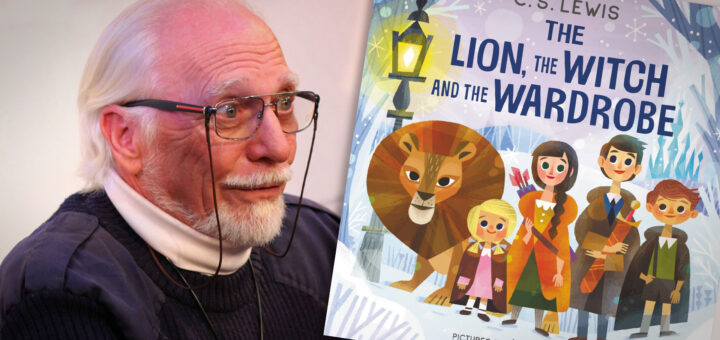 We asked Douglas Gresham (stepson of C.S. Lewis) some questions about the recently-released board book adaptation of The Lion, the Witch and the Wardrobe.
---
NarniaWeb: What was your role in the creation of The Lion, the Witch and the Wardrobe board book?
Douglas Gresham: My role in the making of this board book was pretty much my usual role. I first was sent a letter describing what one of my friends at HarperCollins thought would be a good idea for the very young amongst us, and naturally I looked forward to seeing what they had in mind. However the person who approached me on this idea was and is a very good friend of mine and one with whom I have worked for many years now, so I was quite sure that she would know exactly how to make such a project work very well. As it turned out I was quite right, and so was she.
NW: What was the biggest challenge undertaking this project?
DG: The biggest challenge started with finding the right artist, to make the pictures both simple and easy for very young children to recognize instantly what they were supposed to represent and from them be able to understand what was happening within the adventure that was actually taking place in the book, but at the same time they had to be both intriguing and not in the least bit frightening to the children concerned. Also, at the same time, we had to find the right writer of the simple words to both let the children have a full understanding of what was being said and what was being done inside the story. Fortunately, a very good writer of such work was readily available and she did great job with it.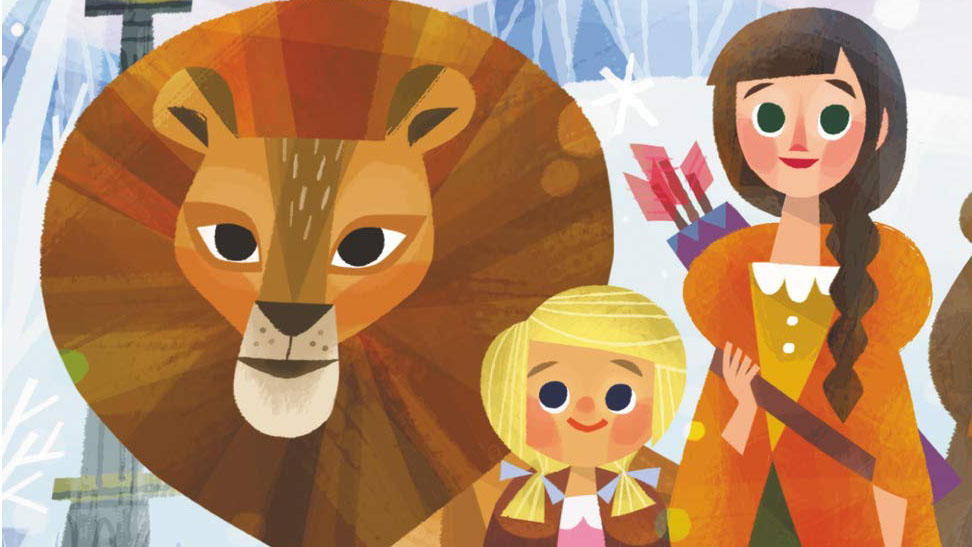 NW: Why was Joey Chou chosen to create the artwork?
DG: Ordinarily, the finding of an artist who can transpose the actual adventure taking place, into pictorial representation suitable to very small people can be quite a difficult task, but in this case it was relatively simple because as soon as I saw the pictures that Joey was devising and that my Harper Collins friend sent to me to look at, I knew at once that Joey Chou was absolutely the right person for the job. Joey's illustrations had, and have, a simple beauty right along with a complex story-telling ability which works particularly well for this book, and for our readers for whom the book was designed.
NW: Is there a specific scene or story point that was especially difficult to condense/translate for younger readers?
DG: Any and of all the books of the Narnian Chronicles have precisely that kind of difficulty attached to reading them to very young children. The stabbing to death of Aslan by the White Witch, for example could leave little people with screaming nightmares, and quite justifiably so at that! The Wordsmith who devised the very clever method in this book, which allows the children to go to sleep (if used as a bed-time story) without nightmares or any sorrows (other than that the book doesn't go on forever) has produced a version of the story that will not frighten the children at all, but will also prepare them for the reading of the original tale when they are old enough to really enjoy it.
NW: When Aslan is introduced, the book says he is "…big and bright like the sun. And he makes you feel safe." Could you give us some insight into the creative process choosing those words to introduce the character to children?
DG: Not to Children, but to Very Young Children, and that is important to realise. Not only does this little book display wonderful images of very young children and their behaviour but also equips them with the emotional weaponry that all such adventures require when they move on (I hope) to read the original books later when they have grown up enough to do so. But introducing Aslan as "big and bright like the sun and he makes you feel safe" will also prevent the little ones from having nightmares about a huge dangerous Lion (and of course Aslan is really exactly that, but also a great deal more as well) but they very soon, in this little book, realise that Aslan is powerful, but on their side, as he tells them that they will be Kings and Queens in Narnia. This is the vital bridge that leads the little ones across the stream of worry or fear and towards a good night's sleep!
NW: Can we expect more Narnia board books?
DG: Ahhh— that yet remains to be seen.
What do you think about The Lion, the Witch and the Wardrobe Board Book? Join the discussion.