Early Review: "The Most Reluctant Convert," New Movie About C.S. Lewis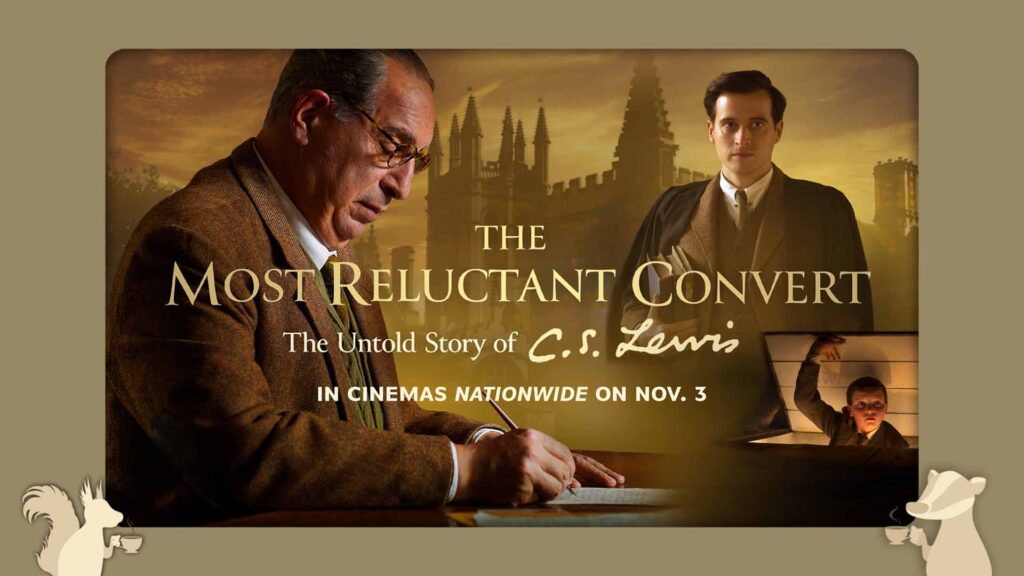 Listen:
Podcast: Play in new window | Embed
A new movie about C.S. Lewis releases on November 3. In this episode of Talking Beasts: The Narnia Podcast, the podcasters review The Most Reluctant Convert, an adaptation of the stage play starring Max McLean. It tells the story of C.S. Lewis's journey from atheism to Christianity. (Showtimes)
Guest: David Bates from Pints with Jack: The C.S. Lewis Podcast
In the Trinity Term of 1929 I gave in, and admitted that God was God, and knelt and prayed: perhaps, that night, the most dejected and reluctant convert in all England.

C.S. Lewis, Surprised by Joy
Watch Part 2 of of this review
(Spoilers)
Related links:
Official Synopsis
An elder C.S. Lewis looks back on his remarkable journey from hard-boiled atheist to the most renowned Christian writer of the past century.

The Most Reluctant Convert features award-winning actor Max McLean as the older Lewis and Nicholas Ralph – breakout star of PBS Masterpiece's All Creatures Great and Small – as young Lewis. Beautifully filmed in and around Oxford this engaging biopic follows the creator of The Chronicles of Narnia from the tragic death of his mother when he was just nine years old, through his strained relationship with his father, to the nightmare of the trenches of World War I to Oxford University, where friends like J.R.R. Tolkien challenge his unbelief.

Written for the screen and directed by two-time Emmy and BAFTA winner Norman Stone (BBC's Shadowlands), The Most Reluctant Convert brings to life the spiritual evolution of one the 20th century's sharpest minds and keenest wits.