Dawn Treader on DVD and Blu-ray April 8th
Several sources, including the Official Facebook page for The Voyage of the Dawn Treader are reporting that the DVD and Blu-ray will be in stores on April 8th.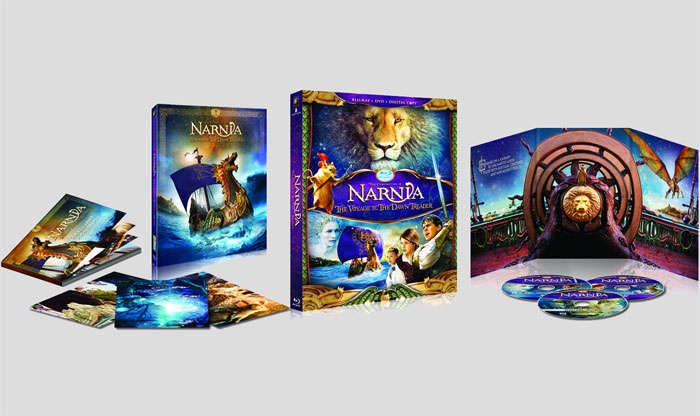 Extras on the DVD include:
– Audio Commentary by director Michael Apted and producer Mark Johnson.
– Deleted Scenes ("The Kids in Narnia…", "Eustace II", "Mutiny", "Caspian's Doubt")
– Untold Adventures of the Dawn Treader – Animated Short.
– King Caspian's Guide to the Dawn Treader: Legends and Lore of the great ship.
– 5 "Island Explorations" featurettes.
– 7 Narnian Discoveries: Friends and Foes of Narnia featurettes.
– 4 "Fox Movie Channel Presents" Behind the Scenes featurettes.
– A DVD game having to do with swords.
The Blu-ray will include all of the above plus:
– 3 additional Behind the Scenes featurettes including "Battle on the sea".
– Digital Copy of the film.
NarniaWebber Griffle points out that the VFX Progression Reel featurette and the Music Video mentioned here is not listed as being part of the extras, but will still probably be there.
To pre-order your copy, click the links below:
Thanks to Griffle and Louloudi the Centaur for the heads up!
UPDATE: Amazon has new cover art: