The Silver Chair Pre-Production in 2017?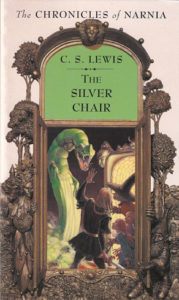 Douglas Gresham (producer, stepson of C.S. Lewis) gave an update on The Chronicles of Narnia: The Silver Chair while speaking at the Logos Theater in Taylors, SC yesterday. NarniaWeb spy 'Hogglestock' attended and sent us a rundown.
Gresham thinks pre-production will begin early next year.*
For the fans that love the famous speech Puddleglum gives after stamping out the queen's fire… "We've got that in the movie," Gresham confirmed.
Tristar has been completely on board with Gresham's wishes for the script. He called The Silver Chair "the best Narnia movie script we have ever had" and believes it will be a "corker" of a movie. (David Magee is the only announced screenwriter)
* "Pre-production" usually refers to the phase where sets are constructed, locations are scouted, actors are cast, costumes are designed, and the filming schedule is worked out. This period can last anywhere from several months to a couple years before filming begins and usually starts after a director is announced. If the current plans pan out, we would speculate that late 2018 is probably the earliest the film could release. An official release date and director have not yet been announced.
View the production timeline for The Lion, the Witch and the Wardrobe here.
Discuss this in our forum and Facebook page.