The Chronicles of Narnia Movies are on Disney+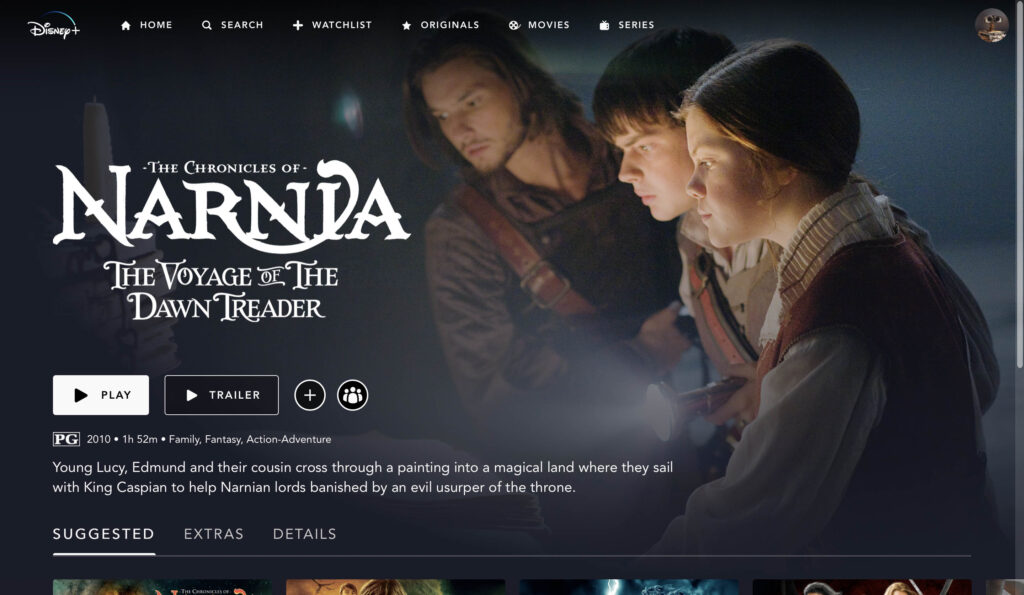 As of today, all three of Walden Media's Chronicles of Narnia movies are on Disney Plus:
The Chronicles of Narnia: The Voyage of the Dawn Treader (added today)
Dawn Treader is being presented in its original theatrical aspect ratio of 2.39:1, instead of 1.78:1 as it appeared on Blu-ray.
Disney Plus adding Dawn Treader today completes a circle for the franchise. Walt Disney Pictures distributed the first two Narnia movies before departing and being replaced by Fox for Dawn Treader. Last year Fox was acquired by Disney, enabling all the Narnia movies to be brought together.
What happened to Narnia 4?
After Dawn Treader's box office sank below expectations, Walden Media pitched The Magician's Nephew as the next movie, but negotiations fell through and they lost the rights.
The Mark Gordon Company began developing The Chronicles of Narnia: The Silver Chair in 2013, but that production was abandoned due to creative differences.
Now, Netflix is preparing Narnia movies and series with Matthew Aldrich at the helm.